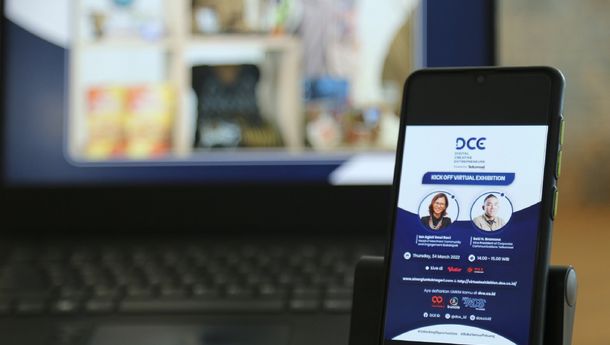 Telkomsel confirmed its commitment as a Digital Ecosystem Enabler by holding a Digital Creative Entrepreneurs (DCE) Virtual Exhibition.
As the final part of developing the digital capacity and competence of Micro, Small, and Medium Enterprises (MSMEs) in the DCE #UnlockingOpportunities program which has been held since November 2021, the DCE Virtual Exhibition is a reference for accelerating digital transformation in the MSME sector in Indonesia.
Show Products from 150 Local MSMEs
The DCE Virtual Exhibition displays products from 150 MSMEs assisted by Telkomsel in the culinary, craft, and fashion sectors for one month at virtualexhibition.dce.co.id starting from 24 March – 20 April 2022.
Vice President of Corporate Communications Saki H. Bramono said Telkomsel understands that the growth of MSMEs in Indonesia is currently full of challenges, especially during the ongoing COVID-19 pandemic. But behind this, there are good opportunities and momentum for MSMEs to #MelesatWithDigital.
"Through this Virtual Exhibition, visitors can see the showcase of 150 DCE participants who have made digital transformations. These MSMEs assisted by Telkomsel in the culinary, craft, and fashion industries have gone through various development processes in the DCE program, and are ready to be examples of how MSMEs can #UnlockingOpportunities with Telkomsel," he explained.
Open Wider MSME Opportunities
Through the DCE program, Telkomsel opens wider opportunities and opportunities, #UnlockingOpportunities for MSME businessmen to be able to increase digital capacity and capability through a series of online seminars (webinars), workshops, and mentoring.
This program encourages the growth of local MSMEs in the fields of culinary, crafts, and fashion in order to increase the competitiveness of entrepreneurs and brand owners at the national and global levels.
DCE Program Series
Telkomsel has started a series of DCE programs in November 2021 with three Entrepreneurship Class webinars which have been watched by more than 50 thousand viewers through the Maxstream and Vidio.com platforms.
As a Talent Sourcing initiative, DCE opened registration at dce.co.id and recruited more than 900 potential MSME participants.
Based on an assessment of product, legal, financial, digital, and creative aspects, DCE selected 150 MSMEs to develop with Telkomsel.
After going through several capability development processes at the Intimate Session, Mentoring Session, and Workshop, Telkomsel has selected the 9 best participants to be the main showcase at the DCE Virtual Exhibition.
"We really hope that the participants will get the best benefits from the series of DCE programs. Hopefully, with the DCE program, MSMEs can maintain and accelerate their business through digital, while strengthening our role in accelerating the national economic recovery," concluded Saki.
Further information regarding the DCE #UnlockingOpportunities and DCE Virtual Exhibition programs can be accessed via virtualexhibition.dce.co.id.(*)
This article has been published on kabarsiger.com with the title "Telkomsel DCE Virtual Exhibition Dorong UMKM Lokal #MelesatDenganDigital", https://kabarsiger.com/read/telkomsel-dce-virtual-exhibition-dorong-umkm-lokal-melesat-dengan-digital.
Editor: Yunike Purnama
Translator: Ritya Rasta Bilqiis
#bengokcraft #bengok #craft #kabarsiger #article #telkomsel #dce #digitalcreativeentrepreneur #virtualexhibition #melesatdengandigital #creativity # #encenggondok #waterhyacinth #handicraft #handmade #artisan #localcommunity #empowerment #export #unique #creative #msme #umkm #Indonesia #semarang #tuntang #rawapening #ecofriendly #gogreen #upcycle #saveearth