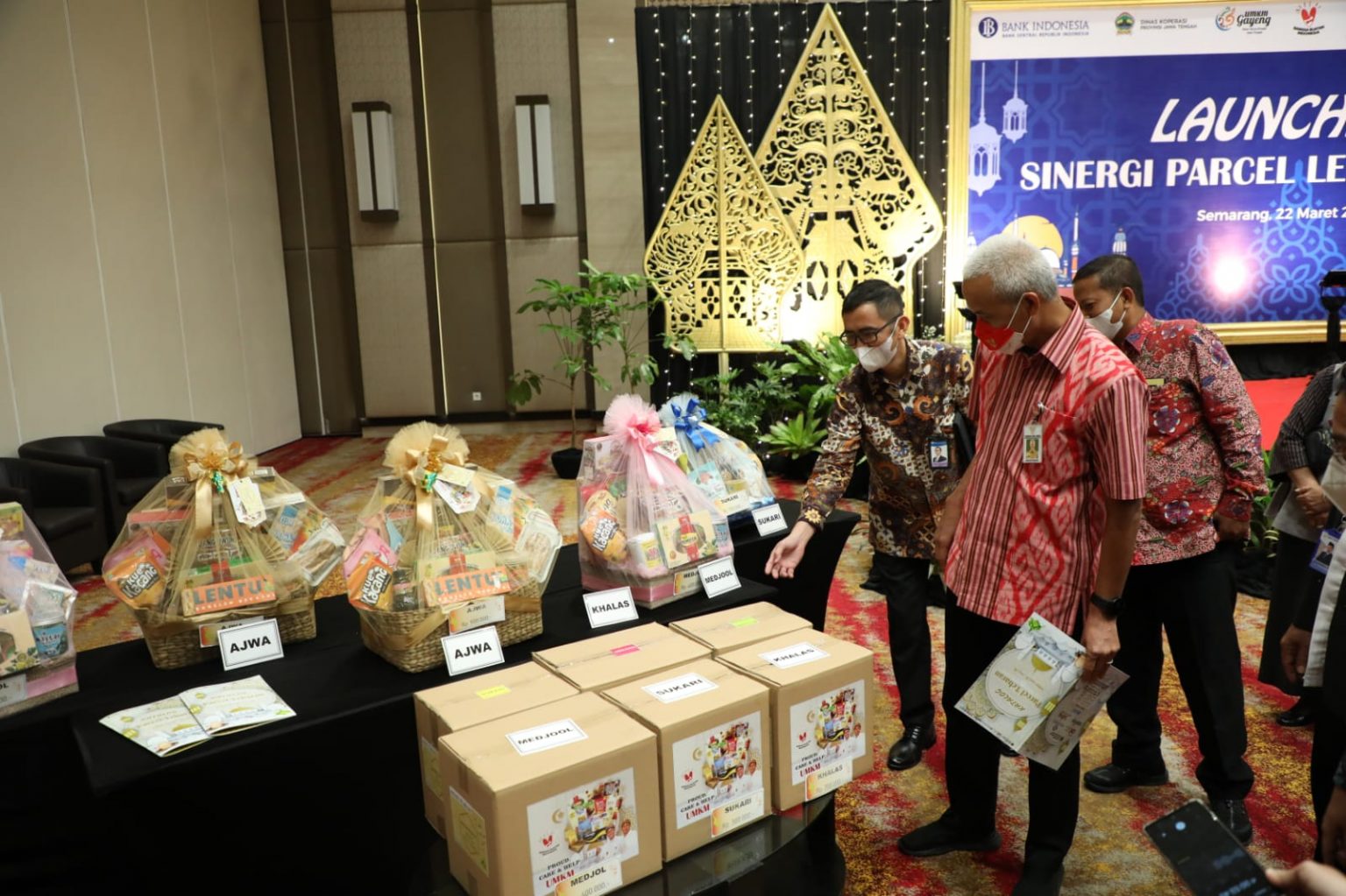 SEMARANG – Approaching Ramadan and Eid, Central Java Governor Ganjar Pranowo invited his staff to create parcels made by Micro, Small, and Medium Enterprises (MSMEs).  He also invited officials to compete in giving parcels not to their boss/seniors, but to the workers and underprivileged people who had been assisting the organization.
This was said by Ganjar, when launching "Gerakan Penjualan Parsel UMKM 2022", a movement to sell SME parcel, at the Gumaya Hotel, Tuesday (22/3/2022).  According to him, the movement started from an effort during the Covid-19 pandemic, to move the economy of small entrepreneurs engaged in Micro, Small, and Medium Enterprises.
"Hopefully this action can help residents with sincerity, of course, can increase synergies to improve our economy," he said.
Ganjar underlined that the gift of parcels should not be a form of gratification.  Therefore, he requested that the parcel be given to the underprivileged people.
"Come on, let's have our earnings to buy (SME parcels).  Give it there are rules.  I don't allow it to give parcels to officials above it, this can't be a gratuity.  Give to those in need.  Love the workers, love our motorbike guards, those who guard the doors, guard the toilets, those who clean up who pay attention," said Ganjar, in his speech.
Head of the Central Java Province Cooperatives and SMEs Office, Ema Rachmawati, said that in 2021, MSME parcel sales would reach Rp2,014,809,600. This amount was collected within two weeks.
With careful preparation in 2022, she believes that this year's sales of MSME parcels will exceed this value. Later, the SME Cooperatives Office of Central Java Province will coordinate with the Souvenir Entrepreneurs Association (ASPO), as an anchor for MSME products.
"Later the provincial government will cooperate with ASPO.  The curated food is then purchased by the association.  Likewise in the district, entrepreneurs can also enjoy the results of their direct sales," explained Ema.
This year, her party also cooperates with local marketplace Blibli, to distribute parcels.  It is based on experience, in 2021 there will be many enthusiasts from outside Central Java who want to buy MSME parcel products.  However, due to the absence of a fleet, orders from the general public are difficult to deliver.
Regarding parcel packages, Ema said there were four types, namely Khalas for Rp. 200 thousand, Sukkari at Rp. 300 thousand, Medjool at Rp. 400 thousand, and Ajwa at Rp. 500 thousand.  In addition, there are packages in certain districts that are sold starting at Rp. 75 thousand.
Therefore, she invited the ranks of provincial offices, BUMN/BUMD, and district/city governments to participate.  Meanwhile, the parcel package bidding process will start from March 22 to April 1, 2022. Followed by a recapitulation of orders on April 4 and distribution on April 25-27 2022.
"Blibli will offer it to the general public, so there is an order to submit it to SMEs who sent Blibli.  Because last year we had orders from Jakarta, Kalimantan, Bandung, and Bogor, we didn't have a fleet so we couldn't ship them.  We'll stop until D-7 later because our SME friends want Eid," concluded Ema.  (Pd/Ul, Central Java Diskominfo)
This article has been published on jatengprov.go.id with the title "Ajak Pejabat Nglarisi Parsel UMKM Jateng, Ganjar: Berikan untuk "Wong Cilik"", https://jatengprov.go.id/publik/ajak-pejabat-nglarisi-parsel-umkm-jateng-ganjar-berikan-untuk-wong-cilik/.

Translator: Ritya Rasta Bilqiis
#bengokcraft #bengok #craft #jatengprovgoid #jateng #centraljava #jatengprov #parsel #hampers #ganjarpranowo #ramadhan #idulfitri #eidalfitr #firmansetyaji #creativity # #encenggondok #waterhyacinth #handicraft #handmade #artisan #localcommunity #empowerment #export #unique #creative #msme #umkm #Indonesia #semarang #tuntang #rawapening #ecofriendly #gogreen #upcycle #saveearth